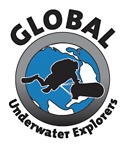 Instructor Rich Walker has been diving since 1990, and instructing since 1994; and since 2004 exclusively for Global Underwater Explorers.
Rich is based in the UK. Courses are regularly run at Capernwray in Lancashire and Vobster Quay in Somerset. Marcus works around Loch Long in Scotland, but can also work further south at Capernwray.  If these aren't convenient, get in touch and we'll sort something out. Rich works worldwide, so traveling is no problem.
GUE has the most comprehensive curriculum available, and we're very happy to be able to offer it. The in-water components of the class are recorded on video, which gives you very powerful feedback as you learn. The classes are rigourous and demand a high level of commitment from you. As a result, you will feel that you have really learned something and made significant improvements in your diving.