Key information:
Dates: 1st-6th Sept 2024
Costs: £1350
Here are the Scapa Battleship Week details – all you need to know about the week's diving, how to get there and how to get more information.
Where and when:
Stromness Harbour, MV Clasina. We'll dive first thing on 1st September, so it's best to arrive the day before. It's normal to stay on the boat, but if you prefer you can stay at a local hotel. A breakfast of cereals, toast, etc is provided, as is a light lunch, usually soup and bread. The evening meal is also included in the cost, and this is always plentiful and tasty. There's cake or dessert as well!
You can get to Stromness in a number of ways. If you're coming by car, then you should drive to Scrabster and then take the Northlink ferry to Stromness. Leave your vehicle at Scrabster in the parking area. You can put all of your dive gear into one of the equipment trollies designed for this purpose. Just ask a member of staff where they are and where to put them when you've filled it up.
If you want to come by air, then you should fly into Kirkwall (KOI). A taxi ride to Stromness will have you arrive at the boat about 30mins later.
Diving arrangements:
The Scapa Battleship week details for the diving are as follows. Basically, we try to make it as easy as possible for you.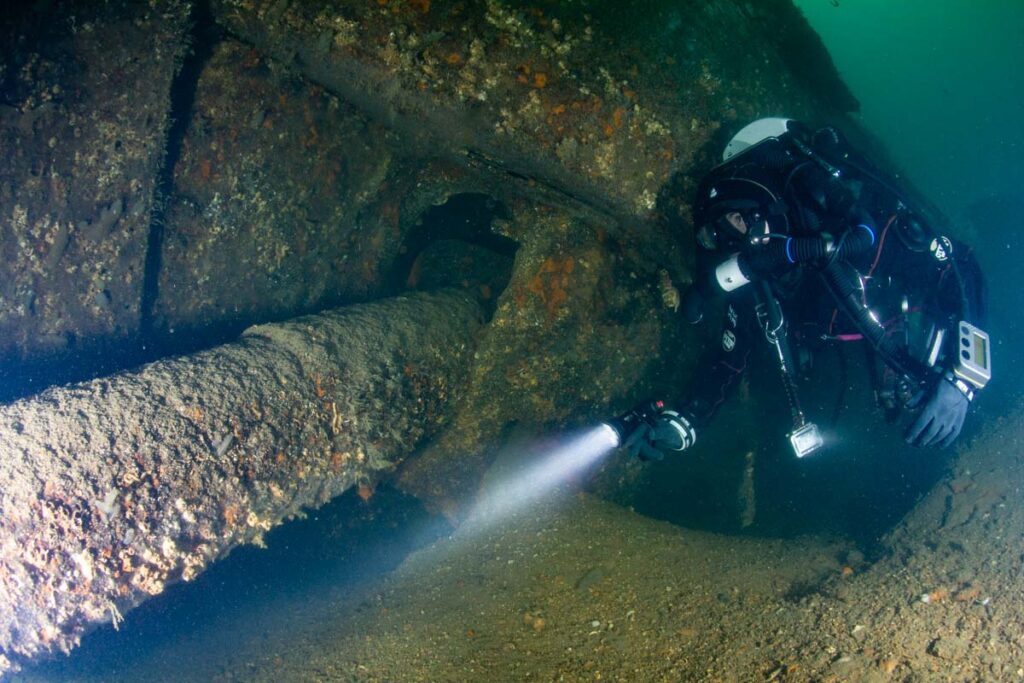 We'll dive for 6 days, 2 dives per day.
We normally start on the Cruisers, which have an average depth of about 28m, with a maximum of 33m. Wrecks like the Coln, the Dresden, the Karlsruhe, and the Brummer. After we've all warmed up and got the hang of the boat, we can move onto some of the deeper sites. The battleships Markgraf and Konig are impressive places. 12″ guns underneath the upturned decking are a truly awe-inspiring sight. Ships that take 30mins to swim the length with all of the sights and features there for you to see really leave you feeling privileged to have seen these monuments. The battleships are no deeper than 45m depth.
Any breathing gas you need can be catered for. Nitrox for the shallower cruisers, and helium for the deeper battleships. Rebreather divers can also be catered for, and twin sets and stages are all available for hire if you need them.
Before each dive, you'll get a very comprehensive briefing, with precise instructions on how to find the significant features of the wrecks. Ignore these guidelines at your peril! If you want to do some of your own research, then take a look at the Scapa Flow Historic Wrecks website. This has some superb imagery of the wrecks, and will prepare you for what you're about to experience!
After the days diving, there will be a short talk about the history of the Scapa Battleships. We'll talk about the events leading up to WW1, the battle of Jutland, the ultimate interning of the ships in Scapa, and the final dramatic scuttling of these ships. This really brings the wrecks to life when you dive them, as you start to appreciate that they're a lot more than rusty pieces of metal!
What's included
This trip includes the following:
6 days diving
Accurate and useful dive briefings
Daily presentations about the events leading up to WW1, the battle of Jutland, and the ultimate scuttling of the German high seas fleet
Explanations on battleship design and construction to help you navigate the wrecks and understand what you're looking at
Breakfast and lunch
Accommodation on MV Clasina
If you'd like more information, then please follow this link and fill in your details – no obligation just yet. You're registering your interest.