Once you've bought the equipment, done the training and practiced until you're perfect, what's left but to go diving? That's where Wreck and Cave expeditions come in.
Students frequently complete their training and say "So what next? Where can I go and put these new skills into practice?". Diving within clubs is great, but sometimes you want to join up with a group of GUE trained divers, and experience something special. Some of the more remote destinations are some of the most exciting and so Rich takes on all of the work to organise these trips. From equipment logistics, transport and diving arrangements, Wreck and Cave provide the whole package. This is a great way to do some outstanding diving, and also make some new friends.
Wreck and Cave expeditions offer everything that GUE divers should come to expect: exciting locations, adventurous diving, like minded people and a stress-free experience.
We all know how to arrange dives in our own areas, but to go a bit further a field requires planning, logistics and local knowledge that many people don't have the time to acquire. Add to that the problems that you can come across finding GUE friendly dive centres and you have quite a job on your hands. Wreck and Cave Expeditions take all the stress away, just leaving you with the fun! No need to worry about getting enough people to fill a boat, whether the boat is suitable for tech diving, whether you'll have enough food or get a decent bed.
Over the past ten years I've organised dive trips all over the UK and Europe, and have dived in the Caribbean, Florida and Australia. With Wreck and Cave Expeditions, my aim is to use the knowledge I have acquired to organise expeditions to my favourite locations, which I believe have something special to offer.
Boltsnaps [and beer!] included*
Wreck and Cave Expeditions are a complete package. We will manage all of the logistics for you, from booking travel and accommodation to finding the best boats and skippers. We try to provide appropriate equipment (especially the heavy stuff) locally. If this isn't possible, we will arrange to ship equipment from the UK – no more messing about trying to persuade the airline to take 50kg of gear, and sticking your foot under your bag at check in time! Better yet, it's all included in the price.
I will be there on all the expeditions to make sure everything runs smoothly and to see that you're having the best time possible.
Let's put that "shake hands and go diving" idea to the test for real!
Although you're welcome to bring your regular buddy, Wreck and Cave expeditions are all about meeting other GUE divers, making friends and going diving! I guarantee that everyone on the trip will have qualifications and experience appropriate to the type of diving on offer.
On the right, you can find more information about the upcoming expeditions we have planned. Check back regularly as we'll be adding new destinations to the list all the time.
So go on, sign up for a trip, or feel free to ask questions about any of the listed ones!
Rich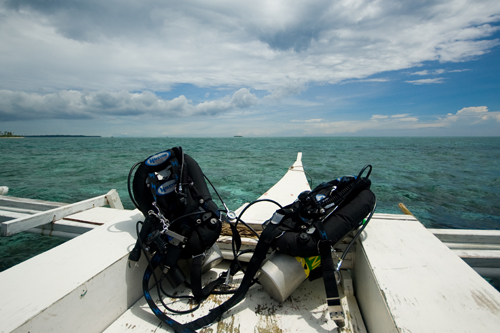 *Offer limited to one beer per diver. Offer is not negotiable or transferrable and has no cash value.