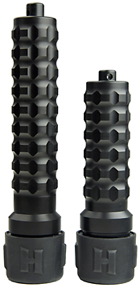 Halcyon Scout backup lights are virtually indestructible, and will burn for ages. They are machined from a solid rod of Delrin, they have no external switches to cause leaks or fail. The standard versions utilize standard Xenon bulbs, underdriven to prolong bulb life and reduce the risk of bulb failure at switch-on, which is a common failure mode of commonly overdriven bulbs. This light will last for several hours, allowing time for the diver to finish the dive safely, with light to spare.
Two sizes of the Scout light are available – the standard three-cell unit, and the smaller two-cell light. The smaller light is often used by shorter divers who find that the longer lights snag on the top of the primary light. The effect of the lower driving voltage (fewer cells) doesn't make a great deal of difference to the light output, so is a very simple solution to the problem.
Halcyon Scout lights now come with the option of an LED bulb. This extends the burn time to in excess of 5 hours for the three cell unit, and seven hours for the smaller two cell unit. The LED bulbs produce a much brighter, whiter, light making them more effective for signaling. The real advantage of the LED bulb comes in its longevity. They have no filament, so are incredibly robust. We've seen these lights flooded in sea water, left for a few days and then washed off, batteries replaced, and fire up like nothing had ever happened.
The increased brightness of these LED lights even makes them useable as an entry level primary light if you're just starting out on a limited budget. Contact us directly for advice as to what light would best suit your diving and your pocket. If you want to try out any of the lights, and see how the different backup lights fir you, and work underwater, then just ask, and we'll arrange for you to try out a selection.