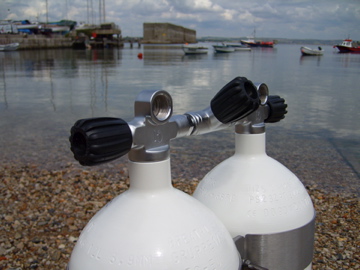 Wreck and Cave now have double cylinders for sale. These are ECS 12L cylinders, with very high quality stainless steel bands, and Halcyon manifolds. The ECS cylinders are long and narrow, compared with something like a Faber. They fit the Evolve wing very well, and most people find that they trim very nicely in the water.
These double cylinder configurations allow large volumes of gas to be carried, with the added benefit of redundancy. Each cylinder has its own regulator, so in the event of a failure, the diver can switch to the other regulator. In addition, the use of an isolating manifold allows the diver access to all of the gas via either regulator, even in the position that a regulator has failed.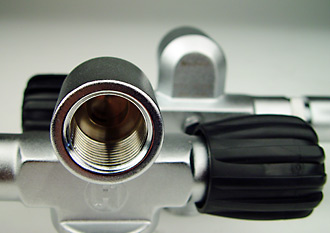 The Halcyon manifold looks very similar to many manifolds currently on the market. However, there are a number of improvements. The finish, overall, is of a much higher quality. This is a time consuming process, but the effect is well worth it. On a more functional level, the valve stem has a radial 'O' ring, rather than the conventional face "O' ring allowing for smoother operation and less wear on the 'O' ring. Rubber knobs are of course included as standard.
As an introductory offer, if you buy a set of these doubles along with a Halcyon MC system, Rich will meet you at an inland dive site, set up the system for you, and take you through a familiarisation session for diving doubles. You will do at least one dive, probably more, and get some very valuable feedback on how to use the wing and cylinders.